Download FileZilla Client for Linux (32bit)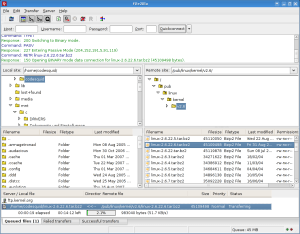 The latest stable version of FileZilla Client is 3.48.1
Please select the file appropriate for your platform below.
Linux (32bit)

Size: 10031519 bytes
SHA-512 hash: 8a0539bf95881034540df421e16f5a50aea432c47463b0c17cef7f3540bb981f5e575c627bf63a0278497edb831398fc5fb3a424c248a48f9f635856bb910105
Built for Debian 10.0 (Buster) 32bit edition. It is highly recommended to use the package management system of your distribution or to manually compile FileZilla if you are running a different flavour of Linux.
More download options
Not what you are looking for?
Prerelease versions
To download the latest prerelease version (currently 3.49.0-rc1), go to the download page for unstable releases.