Download FileZilla Client for Linux (32bit x86)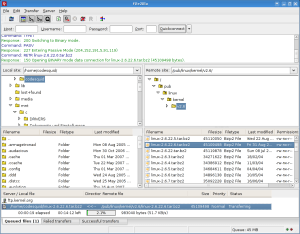 The latest stable version of FileZilla Client is 3.65.0
Please select the file appropriate for your platform below.
Linux (32bit x86)

Size: 12375440 bytes
SHA-512 hash: fb5ffc5660baa0a7b29d47162b1a29c0b4851af65fce8398c118d12b9e5859782a10ff667755527ddb69f2acb286274661f5eeca8521ab94f925493fb907238e
Built for Debian 10.0 (Buster) 32bit edition. It is highly recommended to use the package management system of your distribution or to manually compile FileZilla if you are running a different flavour of Linux.
More download options
Not what you are looking for?