Download FileZilla Server for Windows (64bit x86)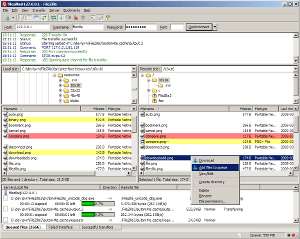 The latest stable version of FileZilla Server is 1.7.3
Please select the file appropriate for your platform below.
Windows (64bit x86)

Size: 5646568 bytes
SHA-512 hash: d4161b69a2411e32e68d064cf5755b39def1d55d51a04c400be12deb6b1c666e66054264167bb98b9d4b916bfb690ccfe777c3313db9c84cd2cd62ee7fdcfb56
The 64bit versions of Windows 8.1, 10 and 11 are supported.
More download options
Not what you are looking for?
Prerelease versions
To download the latest prerelease version (currently 1.8.0-rc2), go to the download page for unstable releases.
Please select your edition of FileZilla Server
FileZilla Server
FileZilla Server
with manual
FileZilla Pro
Enterprise Server
Standard FTP
Yes
Yes
Yes
FTP over TLS
Yes
Yes
Yes
Let's Encrypt® integration
Yes
Yes
Yes
Comprehensive PDF manual
-
Yes
Yes

SFTP

SSH File Transfer Protocol

-
-
Yes

Two-factor authentication

Using time-based one-time passwords (TOTP)

-
-
Yes