Download FileZilla Client for Linux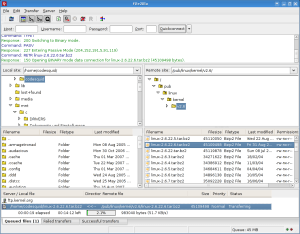 The latest stable version of FileZilla Client is 3.41.2
Please select the file appropriate for your platform below.
Linux

Size: 9474501 bytes
SHA-512 hash: 09daf76dbab8cd6f0a115634d7e8b9f1dee45aabb2893ed1c7ca57c7636de873f15d61e262e463134d34fd7831ab5191021b9b82354183c41c628e1e45f9c33e
Built for Debian 9.0 (Stretch). It is highly recommended to use the package management system of your distribution or to manually compile FileZilla if you are running a different flavour of Linux.
More download options
Not what you are looking for?
Prerelease versions
To download the latest prerelease version (currently 3.42.0-beta1), go to the download page for unstable releases.