Download FileZilla Server for Linux (64bit x86)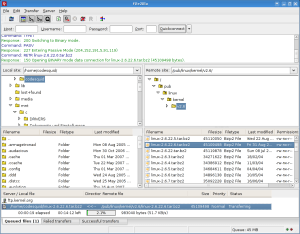 The latest stable version of FileZilla Server is 1.7.1
Please select the file appropriate for your platform below.
Linux (64bit x86)

Size: 4635852 bytes
SHA-512 hash: 8ce25c099a9e0672b0234df10bd7be7366990306899920a46dd112ae958b2e10560440abca929817e2cd9b3ae1796510adf71fbd10b84ee927358c02f1c901ee
Built for Debian 11.0 (Bullseye) 64bit edition. It is highly recommended to use the package management system of your distribution or to manually compile FileZilla if you are running a different flavour of Linux.
More download options
Not what you are looking for?
Please select your edition of FileZilla Server
FileZilla Server
FileZilla Server
with manual
Standard FTP
Yes
Yes
FTP over TLS
Yes
Yes
Let's Encrypt® integration
Yes
Yes
Comprehensive PDF manual
-
Yes