Download FileZilla Client for Linux (64bit x86)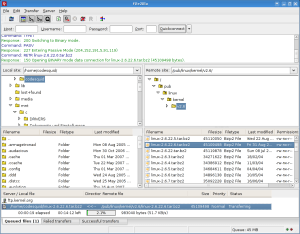 The latest stable version of FileZilla Client is 3.60.2
Please select the file appropriate for your platform below.
Linux (64bit x86)
Size: 15038480 bytes
SHA-512 hash: f6c119072b252ff5fbca485ece75e34f01c2daf108a87b54c5adeb98bf3f1d321c6f9d32fa5c72b116fbbe506ca4fcd225c4f3f508d7e6c04bc77d82d57b0f9d
Built for Debian 10.0 (Buster) 64bit edition. It is highly recommended to use the package management system of your distribution or to manually compile FileZilla if you are running a different flavour of Linux.
More download options
Not what you are looking for?